Whether you're building a multi-level garden or having problems with erosion, you might be considering installing a retaining wall. This guide to building a gabion wall is a great alternative to more restrictive and expensive concrete retaining walls.
What is a Gabion Wall?
Retaining walls are sturdy structures built to support soil in place at different levels on each side. Civil engineers often use retaining walls to keep a steep slope of soil off the road. People often use retaining walls to block off different levels in their gardens.
Don't think that your retaining wall has to be made of bland concrete—building a gabion wall will add charm to your garden. Gabion walls also have a smaller carbon footprint than traditional concrete walls, so using this type of structure is better for the environment.
Materials Needed
You can create a gabion by assembling a wire basket or building a wire wall and filling it with stones of different sizes and colors.
Stones
Not all stones are suitable to use in gabion baskets and walls. Gravel, decorative stones, or pieces of rock are popular options. The most common stones used are granite, sandstone, or quartzite. They may come in any shape, but rounded or rectangular stones will fill the gabion best.
Granite, sandstone, and quartzite also come in any size, so you can mix and match large and small stones. There is no need to perfectly fit the stones together because there needs to be space for air and water to flow through.
You can fill gabion walls by using materials you might have leftover from other house projects. If you have extra tile after redoing your bathroom, you can use those tiles in your gabion. You can also use bricks leftover from a project or removed from a previous flowerbed or garden.
Many homeowners like to fill gabions with tiles or elements from nature, like pine cones. This is a great way to reuse existing materials while also drastically reducing the cost of building a gabion structure.
Think about what material you plan to fill your gabion with before building it because different materials require different thicknesses of wire. If you're using gravel or pebbles, you'll need a thinner mesh so the stones won't slide out. If you're using large stones, you'll want sheet steel wire mesh with a thicker wire diameter to keep the wall structurally sound.
Gabion Cages
The type of gabion cage you buy depends on the type of wall you're building. If you plan to build a retaining wall, you'll need a cage with thick wires that you can fill with large stones. If you're building a taller fence, you'll have to buy enough gabion baskets to have at least two layers stacked on top of each other. If you're building a decorative wall for your garden, you'll have more options for style baskets you can buy.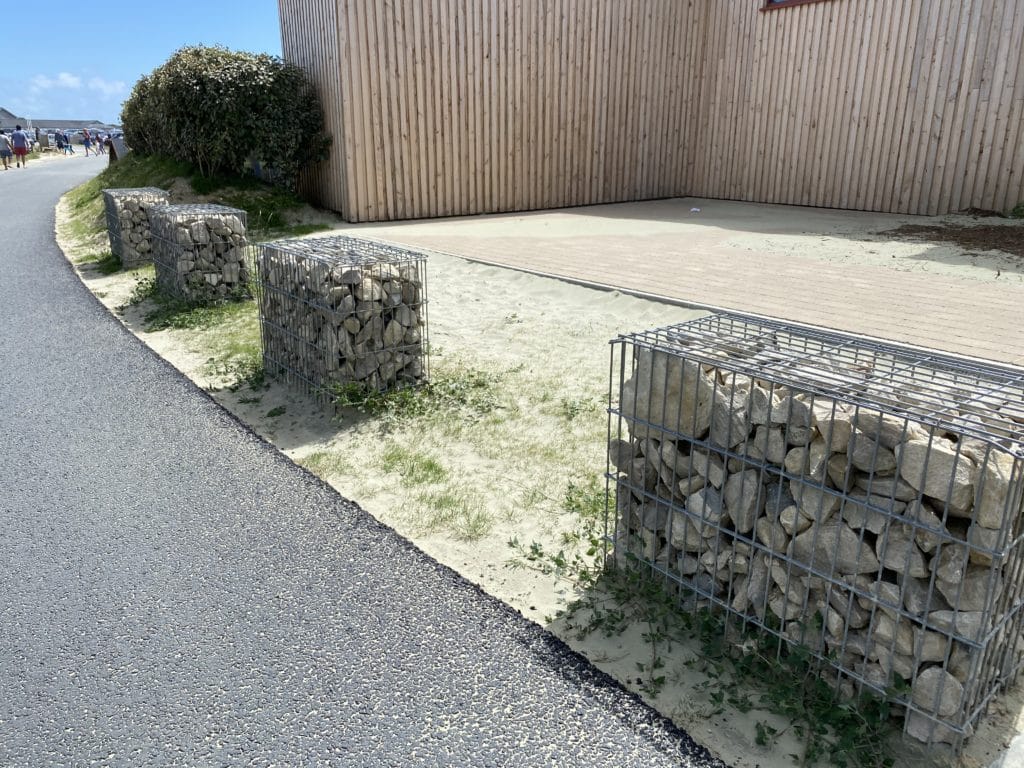 Sizes
You can buy small baskets and stack them together to get the exact look you want for your gabion wall. Baskets start as twelve-inch cubes and typically increase by three inches so that you can size up to fifteen-inch cubes, eighteen-inch cubes, and so on.
Not all gabion baskets come in cubes. You can purchase rectangular cages that are taller than they are wide, like an eighteen-inch tall basket that is only twelve inches thick. Most suppliers' websites give you an option of specifying if you want your gabion basket to be two or three times as tall as it is thick. Retaining walls will be much thicker than decorative gabion walls or fences.
Six foot long baskets are the most common size used for gabion walls. They have a middle panel to prevent the wire from bulging out after being filled with stones. This is the perfect size basket to buy if you're building a long wall because you'll have to insert support poles every six feet for stability. Gabion walls should be eighteen feet tall or less for safety reasons, but six feet is a standard height.
Cost
You can estimate the standard cost for gabion walls at $35 per cubic yard, a three-foot-square cage. You can use online calculators to input your wall's size, pick a type of wire, and get a general idea of what your cost will be.
You'll also have to factor in the cost of the filling stones and any concrete you may need if you don't have hard soil for the foundation. Additional expenses might include wood posts to stabilize longer fences and labor if you need help building your wall.
Steps for Construction
There are easy steps to follow when you're building the gabion retaining wall in your garden.
Mark off the location of the gabion wall by using a string line and level. Ensure that the ground is level in both directions.
Remove grass and weeds from the building site. If you have hard soil, you can put your gabion wall right into the soil. If the soil is sandy, you need to insert about six inches of compacted gravel or concrete; otherwise, the soil might not hold up the wall's weight.
Since the walls are wire, you'll need to space support posts about six feet apart. These should be embedded in three to four inches of concrete and can be positioned so stones can block them from view.
Lay the gabion baskets with the bottom panel flat on the prepared base, and slide it over the support posts. Baskets are held together with a spiral of galvanized steel that winds through the edges of the panels. Once the spirals are in place, pinch the ends to prevent it from slipping out.
Fill your gabion baskets with the stones of your choice. You'll want to make sure your exterior stones are slightly larger than the openings of your wire mesh. You can use cheaper and less attractive stones to fill the middle of each basket.
To make your fence taller than three feet, you will have to stack baskets on top of each other. Once the bottom layer of baskets is filled, you'll wire the lid closed and add a second layer. Follow the same steps for filling these baskets as you did before.
Suppliers
You can buy gabion wall materials in many hardware or home improvement stores and online shops.
GabionSupply has all of the supplies necessary for building your gabion wall, including different sizes and shapes of cages and unique deco-glass blocks. The site includes a link to their "Wednesday Webinars" video tutorials that help you build your gabion wall.
GabionenShop has many different fence styles and has an online configurator so you can mix and match pieces to see how the baskets will fit together. The site has an extensive offering of filling stones like marble, limestone, quartz, and granite, in many colors.
StoneDecorative offers gabion wall cages in small, medium, and large sizes; you can also contact them about custom sizes for your unique project. The site also boasts a nice selection of polished and semi-polished stones to use as filler, as well as slate chippings and gravel.
No matter what size or style of gabion wall you plan to build, this guide can serve as a handy reference throughout your project.