Gabions are a popular and practical way to add visual appeal to your landscape. This guide to gabion stones will help you understand gabion structures and the types of stones you can use.
What are Gabion Stones?
Gabions are cages, cylinders, or boxes filled with rocks. Gabion stones make walls and landscaping elements aesthetically appealing while still being structurally sound. You can add a unique, rustic look to your garden by building a gabion wall or using gabion baskets as design elements.
Gabion baskets are the wire mesh used to contain your chosen material. You can choose different baskets to make the wall or decorative element, including varying sizes and even curved cages to create an interesting line. Most baskets are made of galvanized steel and are coated with Galfan to last up to fifty years. Gabion baskets come as kits that you can unfold and fill on your own.
Gabion walls as retaining walls are advantageous to use in multi-level gardens to keep areas separate. If you're interested in installing gabion fencing, you'll need to consult with a builder or engineer who has experience with this type of project. Gabion walls are built with two layers of fencing spaced some distance apart, so each fence must stay upright on its own and be strong enough not to topple over when filled with stones.
Advantages of Using Gabion Stones
Gabion walls are incredibly tough and built to last up to fifty years, compared to a fifteen- or twenty-year lifespan of wooden or chain link fencing.
The wire acts as extra reinforcement, not just the framework.
Building gabion walls doesn't require much extra work compared to other fences.
Unlike brick walls, gabion walls are porous, so air and water flow through them instead of causing mold and damage.
Gabion structures are unique and more attractive than standard fencing.
Disadvantages of Using Gabion Stones
If you don't buy galvanized steel wire, the gabion might start to rust after being exposed to the elements.
Gabion walls take up more space than wooden or chain-link fences because they are thicker.
It can be hard to replace rusted or damaged gabion wire.
If your stones are worn smooth, it will be difficult to replace what is worn, especially if it is at the bottom of the structure.
Materials
You can create a gabion by building a wire cage and filling it with stones of different sizes and colors. Gravel, decorative stones, or pieces of rock are some of the most popular options. You can fill gabions with tiles, broken bricks, or even elements from nature, like pine cones.
You should know what material you plan to fill your gabion with before building it, as different materials may require different thicknesses of wire. If you're using gravel or pebbles, for instance, you'll need a thinner mesh so the stones won't slide out. If you're using large stones, you'll want sheet steel wire mesh with a thicker wire diameter to keep the wall structurally sound.
Not all stones are suitable to use in gabion baskets and walls. Think about size, shape, durability, temperature resistance, and pressure strength.
The most common stones used are granite, sandstone, or quartzite. They may come in any shape, but rounded or rectangular stones will fill the gabion best. These stones can also come in any size, and you can mix and match large and small stones. There is no need to perfectly fit the stones together because there needs to be space for air and water to flow through.
Amount of Stones Needed
You'll order the rocks needed to fill a gabion basket in cubed meters, so you have to calculate the volume of your basket first. Multiply the basket's width, height, and depth to get the volume. For example, a 500 mm cube would be 500 x 500 x 500 – 0.125 m3. You would need 0.125 cubed meters of rock to fill your basket. Then you will have to divide that measurement by the size of the stones you want to use.
If you're unsure of the math, you can use an online Gabion Stone Calculator.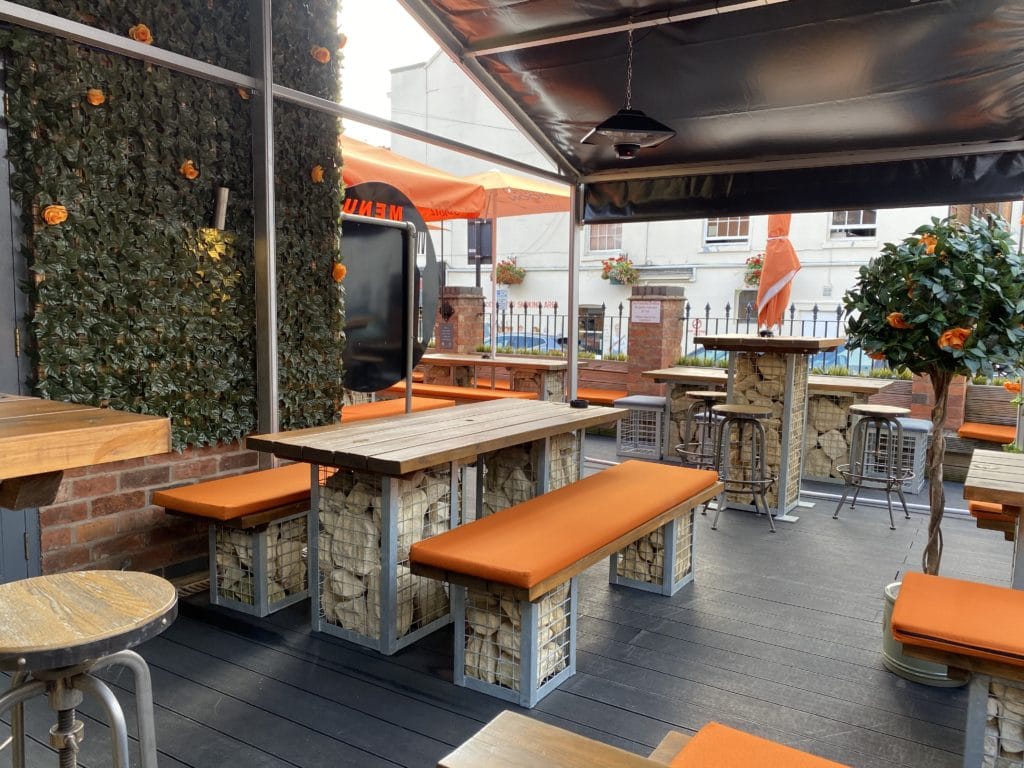 Cost
The cost of gabion stone structures can vary widely depending on what you're building. For example, you'll need assistance and more materials to build a gabion fence instead of using baskets for your wall. The price of the wire also depends on the quality and how much you need.
You'll also have to consider the price of the filler stones. If you're building a tall, wide wall, you might consider using bricks or attractive stones for the exterior while filling the inside with smaller, cheaper materials.
You can make stones by using materials you might have leftover from other house projects. If you have extra tile after redoing your bathroom, you can use those tiles in your gabion. You can also use bricks leftover from a project or removed from a previous flowerbed or garden. This is a great way to reuse existing materials while also drastically reducing the cost of building a gabion structure.
Suppliers
GabionSupply has tons of supplies for building your gabion, including unique deco-glass blocks. The site also has tips and video tutorials.
GabionenShop has an extensive offering of stone like marble, limestone, quartz, granite, and more. There are also many colors available.
StoneDecorative has an excellent selection of polished and semi-polished stones, as well as slate chippings and gravel.
Design Ideas
There are different styles of gabion baskets to consider as you build your structure, including different coatings, sizes, and wire diameters. Design ideas for the gabion stones can also vary depending on the purpose of your structure. If you want a strong retaining wall, you might not care what it looks like, whereas if you want to add some charm to your garden, you might have a specific aesthetic in mind.
You might want to use large, sturdy stones to make your wall look solid and secure. If you're building a gabion structure for practicality and aesthetic purposes, you can explore a variety of materials depending on how you want your garden to look.
You can use attractive decorative stones to fill your gabion baskets and brighten your garden's overall look. You might prefer to keep your structure natural and use elements like pinecones and acorns to give a rustic look to your gabion. This guide to gabion stones, along with inspirational ideas, should help you add appeal to your garden with gabions decorating raised beds, fire pits, and benches.