What are gabion cages?
If you've seen gabions of any kind, you're likely to have noticed that they consist of steel cages that hold filler material (usually rocks, stones or other quarried products). Gabion cages are essentially the steel outer mesh that encases gabion filling. Due to the nature of these cages, they are often used to create permeable structures like retaining walls and channel linings.
Gabion cages are constructed from high quality steel wire, which is usually heavily galvanized in order to provide long-term corrosion protection. If you plan to use gabion cages in more aggressive natural environments, they can also have a polymer coating applied for further protection.
Welded mesh gabion cages are also an excellent example of gabion cages and tend to be stronger than traditional woven wire cages. Occasionally, these cages are the preferred style for landscapers that are undertaking work without contractors, as they are fast to assemble, simple to install and do not require any tensioning work. Somewhat akin to gabion baskets, high quality gabion cages are often preferred to the former option, as they are less likely to buckle when filled. Though baskets are an equally viable option, gabion cages are extremely useful for landscaping features that need to be sturdy.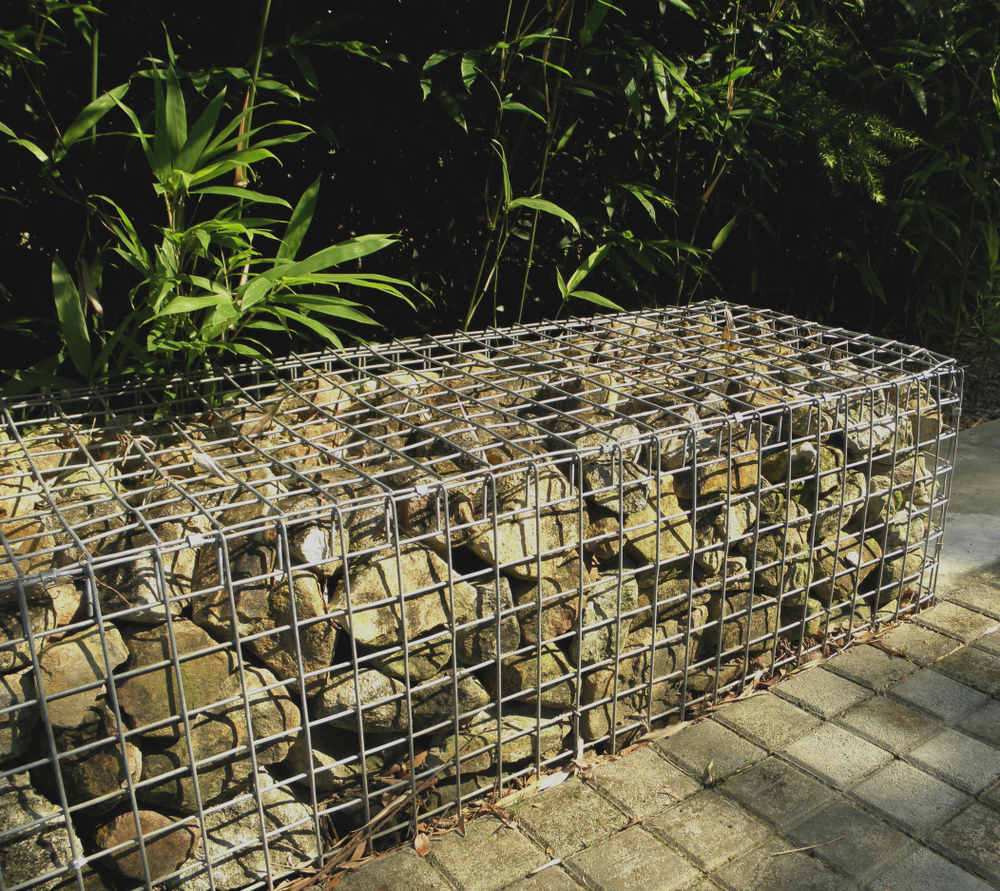 Are gabion cages easy to purchase?
Gabion cages are easy to source in the UK, and gabion cages are for sale through various garden stores and steel manufacturers. Garden Gabions for example, is one of the leading suppliers of gabion cages in the UK, and for over 40 years have been involved in supplying gabions. With the average Large 3mm coming in at £35, they are a reasonable source for good quality materials.
It's important to note that gabions must meet a certain standard for welded mesh. With minimum requirements for coating, users should make sure that gabion cages meet the standard of 275gsm (for 4mm wire). Not only does this ensure that galvanized gabion cages will last for the longest time possible, but they will be sure to meet legal requirements for these structures. 
What are the sizes of gabion cages?
Generally, gabion cages tend to fall into a few standard aperture sizes. With 75mm x 75mm being the most common, it's a good idea to be clear of your desired outcome before selecting aperture sizes. If you're after square gaps in your design, 75×75 is a good dimension to select. Alternatively, if you want a rectangular design, 100mm x 50mm is a better option.
All in all, gabion cages are what give larger gabion structures their unique character. When these individual gabion cages are combined, they can be designed to create benches, retaining walls and gabion fences. Whether you're looking to create a garden centerpiece or create more structural integrity in vulnerable environmental areas, gabion cages are a hardy and cost-effective way to do so.